In Group Tutoring students demonstrate and build cooperative attitudes and work skills which are necessary requisites for today's world.
"The tutor related to us all very well, and I learned a lot from her."
– G.H., Group Tutoring student

"The activities were fun and exciting. The tutor was very professional and helped me a lot."
– L.J., Group Tutoring student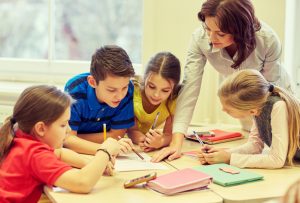 Why Group Tutoring?
Develop self-esteem and improve understanding
Ask questions in a supportive learning environment
Make connections and develop teamwork skills
Participate in activity-based learning with an Ontario Certified Teacher
Partake in opportunities for problem solving
Young Entrepreneurs Club

The Young Entrepreneurs Club provides students (9-14 years old) with the tools and information to be a successful entrepreneur. Students will be given the opportunity to research their target markets, consider marketing initiatives, as well as develop and present a complete business plan for an enterprise in which they are interested. The Young Entrepreneurs Club is perfect for budding dog walkers, babysitters, landscapers, artists, bakers, and inventors. Upon completion of this 4-week workshop, students will be able to identify the fundamental features of their business and develop confidence in their future endeavors as a young entrepreneur.
Study Strategy and Test Preparation Workshop
The Study Strategy and Test Preparation Workshop focuses on developing students' academic skills through supplemental activities, participation, and guided instruction. Students set S.M.A.R.T. Goals, learn how to manage their time and tasks, integrate note-taking and reading strategies into their routine, and prepare for tests in a manner that suits their individual learning styles. This 10-week workshop is best suited to students who are  in Grades 7-10.
Post-Secondary Preparation Workshop
The Post-Secondary Preparation Workshop introduces students (17-20 years old) who are entering post-secondary programs to a set of life skills required to balance a busy academic schedule, oversee personal finances, and maintain a healthy and productive lifestyle while living on their own. Major topics include managing post-secondary academics, considering personal finances, as well as maintaining personal health and wellness.
Online Registration
Workshop Formats: In-class; active learning and participation; activities and/or practice tests
Prerequisites: Students must be enrolled in appropriate age/grade levels.
Location: The Creative Space, 12 Dunlop Street East, Barrie, ON L4M 1A3
Materials: Students must come prepared with their own writing materials (binder, paper, pens)