In our Group Tutoring and Workshops students demonstrate and build cooperative attitudes and work skills which are necessary requisites for today's world.
"The tutor related to us all very well, and I learned a lot from her."
– G.H., Group Tutoring student

"The activities were fun and exciting. The tutor was very professional and helped me a lot."
– L.J., Group Tutoring student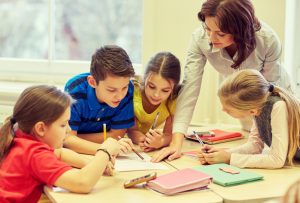 Why Group Tutoring?
Develop self-esteem and improve understanding
Ask questions in a supportive learning environment
Make connections and develop teamwork skills
Participate in activity-based learning with an Ontario Certified Teacher
Partake in opportunities for problem solving
Grade 9-10 Study Strategy Workshop
The Grade 9-10 Study Strategy Workshop focuses on teaching students how to organize their notes, schedule deadlines, break assignments into achievable tasks, and review for tests. This workshop is a 4-hour program, split into two evenings. It is best suited to students who are  in Grades 9-10.
OSSLT Preparation Workshop
The one-day Ontario Secondary School Literacy Test (OSSLT) Preparation Workshop is designed for students in Grade 10 with a focus on developing their literacy skills. Students meet for three hours to work together. Through supplemental activities, active participation, and guided instruction by an Ontario Certified Teacher, students prepare for the OSSLT. Participating students advance their reading, writing, and grammar skills, which are required to pass the OSSLT – and graduate!
Grade 11 Math Homework Hub

Homework Hubs give students an opportunity to work in groups of three with one certified teacher throughout the semester. This weekly support is available for students in any level of Grade 11 Math. Students are expected to work on their classroom homework. They are required to bring their notes, worksheets, and textbooks. Our tutor is available to answer questions and explain concepts to support student understanding and encourage confidence. Space is limited. Enroll today.
Online Registration
Workshop Formats: In-class; active learning and participation; activities and/or practice tests
Prerequisites: Students must be enrolled in appropriate age/grade levels.
Location: The Creative Space, 12 Dunlop Street East, Barrie, ON L4M 1A3
Materials: Students must come prepared with their own writing materials (binder, paper, pens)